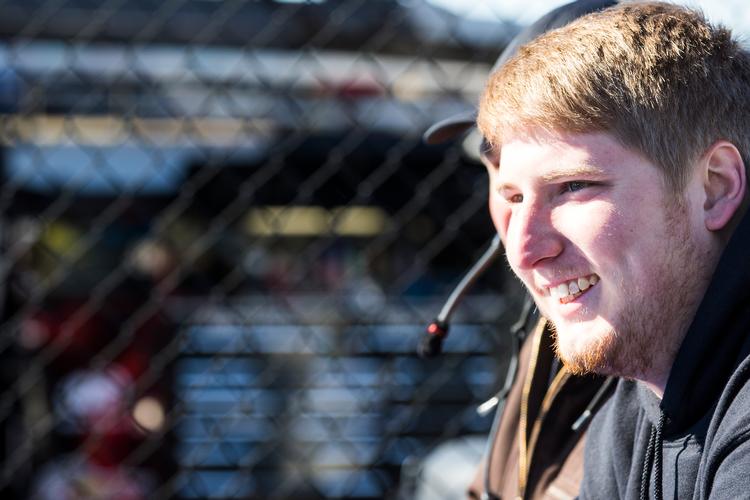 Top-10 Finish Cut Short for Austin Hill After Oil Line Failure
September 25, 2016
NASCAR Camping World Truck Series
UNOH 175
New Hampshire Motor Speedway
September 24, 2016
Race Highlights:
The UNOH 175 marked the 17th race of the 2016 NASCAR Camping World Truck season and sixth race for Austin Hill.
Hill advanced through all three rounds of qualifying, starting 11th and racing his way as high as seventh during the 175-lap race.
While running amongst the top-10, Hill reported smoke coming from his truck. After coming to pit road the crew diagnosed the problem as broken oil line, ending the day in 30th place.
A NASCAR Next alumnus, Hill had two previous starts at the Loudon, N.H. 1.058-mile track in the NASCAR K&N Pro East Series, before entering Saturday's NCWTS event with Young's Motorsports.
William Byron earned his sixth career NCWTS victory and was followed to the finish line by Christopher Bell, Matt Crafton, Tyler Reddick and Timothy Peters.
The next NCWTS race is the Rhino Linings 350 at Las Vegas Motor Speedway on Saturday, October 1. The race will be televised live on FS 1 and broadcast live on the Motor Racing Network (MRN) and SiriusXM Radio beginning at 8:30 p.m. Eastern Standard Time.
Hill will next compete in the NCWTS with Young's Motorsports at Martinsville Speedway on Saturday, October 29th.
Top-10 Finish Cut Short for Austin Hill After Oil Line Failure
In his first career NASCAR Camping World Truck Series start at New Hampshire Motor Speedway, Austin Hill and the No. 02 Young's Motorsports Ford team finished 30th in the UNOH 175. After starting the 175-lap event from the 11th position, the Winston, GA native found himself inside the top-10 within the opening laps. Reporting a slight loose condition on entry, crew chief Mike Abner brought Hill to pit road under caution on lap 53 for four tires, fuel and a trackbar adjustment. Hill fired off under green, reporting the truck was fastest in the center of the turns. Under the lap 104 caution clock expiration, Hill reported smoke inside the truck. The crew diagnosed the problem as a torn oil line, thus ending a top-10 run for the No. 02 Young's Motorsports crew.
Start – 11 Finish – 30 Laps Led – 0
AUSTIN HILL QUOTE:
"We had a solid top-10 truck today but unfortunately found ourselves with another bad luck gremlin. Somehow the oil line got a hole in the side of it, which ended our day short. It's frustrating to go out that way, but I cannot thank everyone involved from the Young's Motorsports team for all of their hard work and dedication. We had a really good truck and I forward to getting back behind of the No. 20 Ford at Martinsville Speedway in a few weeks."