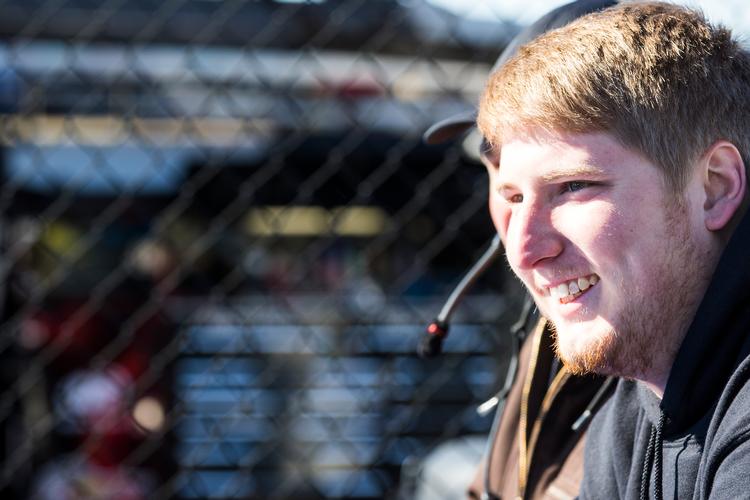 POCONO A WEEKEND OF HIGHS AND LOWS FOR HILL
July 31, 2016
POCONO A WEEKEND OF HIGHS AND LOWS FOR HILL
Austin Hill earned his best career NCWTS start but damage in the race forced him to retire early, relegating him to the lowest finish of his NCWTS career
LONG POND, Pa. (July 31, 2016) – NASCAR Camping World Truck Series (NCWTS) driver Austin Hill experienced all of the ups and downs the "Tricky Triangle" has to offer during his first visit to Pocono Raceway for the Pocono Mountains 150. Hill earned his best career NCWTS start but damage in the race forced him to retire early, relegating him to the lowest finish of his NCWTS career.
Hill turned his first laps ever at Pocono Raceway during Friday's practice sessions, using the majority of the first session to familiarize himself with the track. After taking quickly to the "Tunnel Turn", Hill needed help to get the truck to turn through Turns 1 and 3. The team made a series of adjustments to help the truck gain speed off the corners and finished the first practice session 18th fastest on the leaderboard.
The No. 02 continued to gain speed during the final practice session Friday afternoon as the driver became more comfortable with the truck and the race track. To close out the session the team elected to make a mock qualifying run and would end final practice in the sixth position.
Saturday morning's qualifying session was cancelled due to adverse track conditions from overnight rain in the area. The No. 02 would roll off the grid from the sixth position for the Pocono Mountains 150, marking Hill's best career NCWTS start.
Hill made the most of the initial green flag, expertly gliding through Turn 1 and fighting for position on the opening lap. However, the No. 02 Ford made hard contact with the outside wall coming off of Turn 2 while running in the Top 5. The crew was unable to repair the damage and Hill finished 31st.
"I'm really not sure what happened to us in Turn 2," said Hill. "It didn't feel like anything broke, the truck just wouldn't turn and went straight into the wall. It's really disappointing because our team put together a good truck that I think would have given us a strong finish. We'll get there, we just have to keep digging."
Hill's next race will be the UNOH 200 at Bristol Motor Speedway on August 17. Fans can follow Hill on social media for updates at Austin Hill Racing (Facebook), @_AustinHill (Twitter) and @_Austin_Hill_ (Instagram).