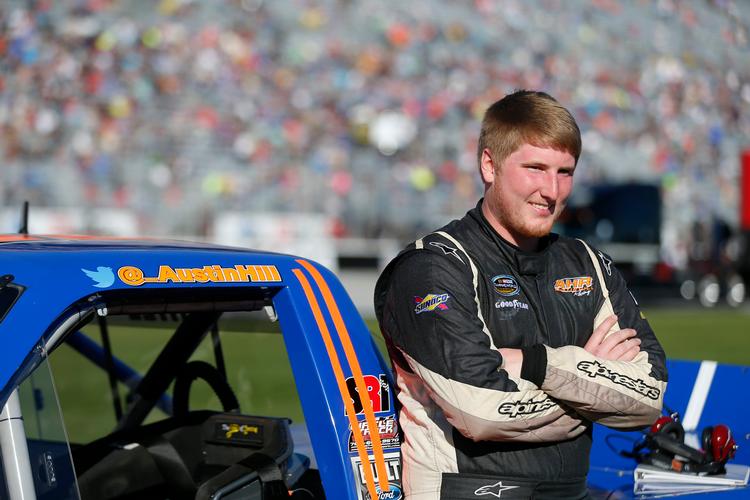 HILL PREPARED FOR BATTLE AT BRISTOL
August 15, 2016
HILL PREPARED FOR BATTLE AT BRISTOL
Austin Hill is ready make his first NASCAR Camping World Truck Series start at Bristol Motor Speedway.
MOORESVILLE, N.C. (August 15, 2016) – Twenty-two-year-old NASCAR Camping World Truck Series (NCWTS) driver Austin Hill cut his teeth on short track racing and is eager to get back to his racing roots this week at Bristol Motor Speedway as he strives for his first Top-10 finish of the 2016 season.
"Going into Bristol I feel really confident. I grew up racing short tracks, from Legend cars to Bandoleros and up through the K&N Series," said Hill. "I've competed on short tracks and half-mile tracks almost all my life, this is the type of racing I know well!"
Hill, who has two Top-10 finishes in three starts in the NASCAR K&N Pro Series East at Bristol Motor Speedway, will be piloting the No. 02 Ford F-150 for Young's Motorsports. The UNOH 200 will mark his NCWTS debut at the famous short track.
"I've raced at Bristol three times in the K&N Series and was in contention for the win in two of those races," said Hill. "Being familiar with the track and how it handles is definitely going to help me adapt to how the trucks run. I feel like we're ahead of the learning curve at Bristol compared to so many tracks we've been to this year where I've never seen the track until I made my first laps."
Running a partial schedule, Hill is proud of what he's been able to accomplish so far this season and looks at short tracks like Bristol Motor Speedway to level the playing field.
"I feel like short tracks are a great equalizer in the Truck Series," said Hill. "Smaller teams can go out and have a strong showing and get more out of these half-mile tracks without spending a bunch of time in the wind tunnel that benefits some of the bigger budget teams on intermediate tracks."
"We've been so close to breaking through at every track we've been to this year and it has really pushed the team to be better," said Hill. "We're hungry to go out there and prove that we have what it takes to compete, and I think we can do that at Bristol. This could be our break through race. I'm more confident going into this race than any other race on our schedule this season. "
The UNOH 200 will take place on Wednesday, August 17 at 8:30p.m. ET at Bristol Motor Speedway. Fans can follow Hill on social media for updates at Austin Hill Racing (Facebook), @_AustinHill (Twitter) and @_Austin_Hill_ (Instagram).
# # #
About Austin Hill
Austin Hill, a Winston, Ga. native, is driven to become the next big name in NASCAR. The 22-year-old is driving a partial schedule in the 2016 NASCAR Camping World Truck Series. Hill earned a third-place finish in the NASCAR K&N Pro Series East Championship in only his second full-time season in the series. Hill is a two-year member of NASCAR Next, a program designed to cultivate and promote the sports' next generation of superstars. Over the past two years, Hill has secured four NASCAR K&N victories and 12 Top-5 finishes. Hill started his racing career at the age of six in Quarter Midgets. He won the 2002 Quarter Midget championship at his hometrack in Cumming, Ga. and went on to excel in Bandolero, Legends Semi-Pro Series and Pro Late Model Series racing. Hill currently resides in Mooresville, N.C. with his wife, Ashlyn, and daughter, Lynnlee.