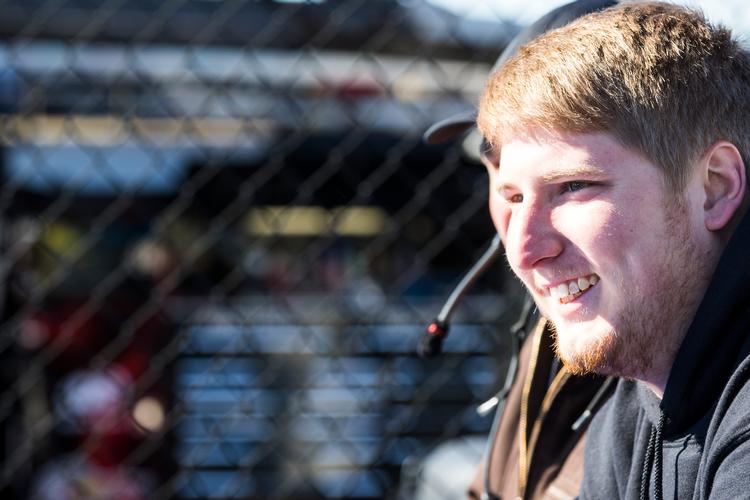 Austin Hill, No. 02 Young's Motorsports Ford F-150 Race Notes and Quotes
September 24, 2016
Austin Hill
No. 02 Young's Motorsports Ford F-150
Event Preview Fact Sheet
Event/Date: UNOH 175 - September 24, 2016
Venue: New Hampshire Motor Speedway
Austin Hill, No. 02 Young's Motorsports Ford F-150
Race Notes and Quotes:
This Week's Young's Motorsports Ford at New Hampshire … Austin Hill will pilot chassis No. 012 from the Young's Motorsports NASCAR Camping World Truck Series stable in the UNOH 175. The chassis is brand new to the team's lineup, having previously raced under the NTS Motorsports banner in 2015.
Hill at New Hampshire… Hill has two previous starts at the Loudon, N.H. facility, both coming in NASCAR K&N Pro Series East competition. Hill's highest finish came in his 2015 outing, where he finished 5th.
Last Weekend at New Jersey… Marking his first start of the season in NASCAR K&N Pro Series East competition, Hill joined forces with Martin-McClure Motorsports to compete in the inaugural JUSTDRIVE.com 125 at New Jersey Motorsports Park. Hill started from the 4th position in the No. 39 ARCO machine, and unfortunately while running 3rd, right before the halfway break pit stop, lost second and third gear in his transmission. The Winston, G.A. native was able to limp his car through the remaining laps, coming home 9th.
Calling the Shots … Calling the shots from atop the Young's Motorsports pit box this weekend will be veteran crew chief Mike Abner. While spending a majority of his career as a crew chief in the NASCAR Spring Cup Series, Abner has earned victories in the NASCAR Camping World Truck Series as well as K&N Pro Series East.
Social Media …To keep up-to-date with the latest news and information and to view exclusive content, visit the Official Twitter pages of Austin Hill @_AustinHill and Young's Motorsports owner Tyler Young @TylerYoung02
Catch the Action … Flag-to-flag coverage of the UNOH 175 will be televised on FoxSports 1 beginning at 1:00 p.m. Eastern Time on Saturday, September 24, and broadcast live on the Motor Racing Network and Sirius XM Satellite Radio beginning at 1:00 p.m. ET.
AUSTIN HILL QUOTE:
"I am really looking forward to getting to New Hampshire (Motor Speedway) this weekend and hitting the track in my Young's Motorsports No. 02 Ford F-150. Anytime you get the chance to race on a track you've had previous experience at, its a plus and I believe we have a solid truck that we are brining this weekend. My crew has been hard at work getting this new chassis ready and we're expecting a solid finish this weekend in the UNOH 175."