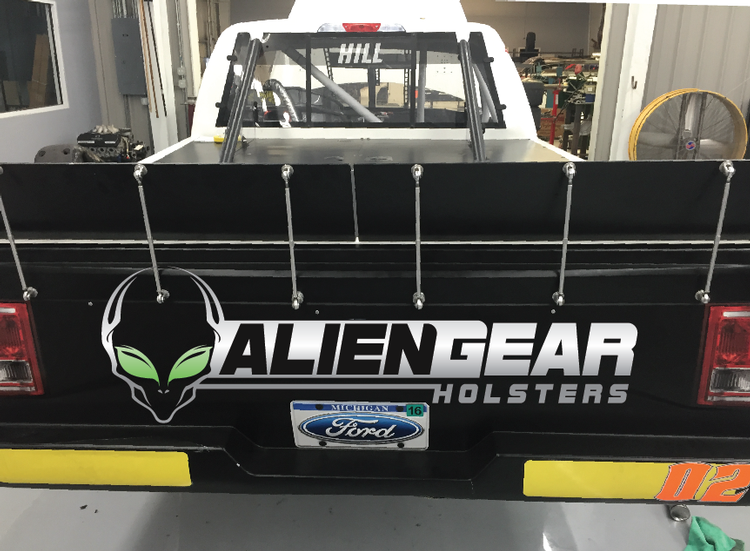 Alien Gear Holsters Joins Austin Hill Racing for Remainder of 2016 Season
October 21, 2016
Alien Gear Holsters Joins Austin Hill Racing for Remainder of 2016 Season
Will Serve as Associate Sponsor for Austin Hill in Three Races
MOORESVILLE, N.C. (October 21, 2016) – Austin Hill Racing (AHR) is pleased to announce Alien Gear Holsters, one of the premier makers of holsters for the concealed carry market, has joined the team as a partner for the remainder of the 2016 NASCAR Camping World Truck Series (NCWTS) season. Alien Gear Holsters will serve as an associate sponsor for driver Austin Hill in his three remaining scheduled races.
Kicking off at Martinsville Speedway on Saturday, October 29, the partnership will also encompass the NCWTS events at Texas Motor Speedway and the season finale at Homestead-Miami Speedway. In addition to their associate sponsorship role on the race truck, Alien Gear Holsters will now be designated as the "Official Gun Holster for Austin Hill and Austin Hill Racing."
"I am really excited to team up with a such a great company as Alien Gear Holsters," said Austin Hill. "They pride themselves on dependability, durability and comfort, showing the customer is always at the forefront of their innovations. As an avid outdoorsman and shooter, I resonate with what they stand for and having the ability to use and showcase their holsters is really an honor for me. I look forward to having them aboard our Ford F-150 as we close out this season."
Alien Gear Holsters is one of the premier makers of holsters for not only concealed carry, but also the everyday carry marketplace. Employing one of the largest gun libraries in existence, with more than 500 makes and models of firearms, they are able to offer holsters other companies simply can not. On top of custom molding each holster shell to the exact make and model of firearm the holster is intended for, they also offer custom made gun belts. Alien Gear offers one of the industry's most comprehensive warranties on holsters, warrantying every holster for life.
Austin Hill Racing will next see NASCAR Camping World Truck Series action Saturday, October 29 at Martinsville Speedway. Hill and his No. 20 Ford F-150 will take the green flag shortly after 1:30 PM Eastern for the 200 lap showdown. FoxSports 1 will carry the live television broadcast, while the Motor Racing Network (MRN) and SiriusXM Satellite Radio, will have live radio coverage.
Fans can follow Hill on social media for updates at AustinHillRacing (Facebook), @_AustinHill (Twitter) and @_Austin_Hill_ (Instagram). Also be sure to check out Alien Gear Holsters at AlienGearHolsters (Facebook), @AlienGHolsters (Twitter) and @AlienGearHolsters (Instagram).
###
About Austin Hill
Austin Hill, a Winston, Ga. native, is driven to become the next big name in NASCAR. The 22-year-old is driving a partial schedule in the 2016 NASCAR Camping World Truck Series. Hill is a two-year member of NASCAR Next, a program designed to cultivate and promote the sports' next generation of superstars. Over the past two years, Hill has secured four NASCAR K&N victories and 12 Top-5 finishes. Hill started his racing career at the age of six in Quarter Midgets. He won the 2002 Quarter Midget championship at his hometrack in Cumming, Ga. and went on to excel in Bandolero, Legends Semi-Pro Series and Pro Late Model Series racing. Hill currently resides in Mooresville, N.C. with his wife, Ashlyn, and daughter, Lynnlee.